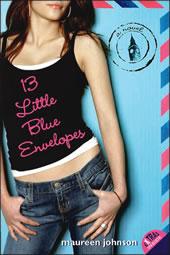 Title:
Thirteen Little Blue Envelopes

Author: Maureen Johnson
Genre: YA
Publisher: Harper Collins, 2005
Source: Provo Library
Ginny's Aunt Peg was always a little eccentric. Now she has sent Ginny a package of 13 little blue envelopes with different tasks for her to complete. The catch(es)? 1. Aunt Peg has recently passed away and 2. the tasks are in
Europe
, where Ginny is supposed to travel with no extra money, no guidebooks, no electronics, and only one backpack. The journey is eye-opening and at times very exasperating, but a journey Ginny will never forget.
Okay, guys? How did I never read Maureen Johnson before? This woman is my writing style soulmate. She writes the way I wish I could, being pretty straightforward but occasionally penning a sentence or two that is absolutely hilarious. Here is just one example, found by opening the book to a random page and skimming it to see if there was anything hilarious (something that should work on at least every other page in the book) -
She didn't want to ask a boy out. She

was

shy (thanks for bringing it up). Plus, the guy she liked was in London, and he thought she was crazy. Salt. Wound. Together at last.
Okay, do you see why I love her? If you don't, you clearly do not share in the delightful sense of humor Maureen Johnson and I both clearly possess. Okay, just kidding. But really, the writing was absolutely what I love to find in a book. Witty, clear, not over-the-top, but not too matter-of-fact either. After reading this book, I added every single Maureen Johnson book to my TBR on GoodReads, because I can't wait to read more of her style.
I liked Ginny. I liked that she was shy and that she missed her friends, and that she wasn't sure about being in Europe, following her madcap aunt's madcap instructions. She is on a journey of self discovery, and in the process has to do things astronomically outside of her comfort zone. I would have liked to see a bit more growth - while Ginny has done some new things in this novel, I couldn't tell if she'd actually
changed
as a person. The character I really loved was Ginny's Aunt Peg, who is never physically in the novel, but whose presence exists through her letters and the memories of the people Ginny meets on her adventure. Yes, she can be exasperating, but she was also original and fun, willing to follow her heart. In fact, I could see more personal growth in Peg than in Ginny, as Peg comes to terms with her runaway habits and fear of being tied down. I kind of wish Maureen Johnson would write a prequel about Peg and her adventures.
The plot was also good, although it wasn't the shining aspect of the book for me. Ginny does a bit of scurrying around, trying to figure out what she is doing, which was a little tiresome at times, but for the most part, her adventure in Europe was a delight. The many mishaps were amusing, and the different people she ran into were also interesting. I look forward to reading the sequel, which is waiting happily for me on my computer in NetGalley form. If you are looking for a light-hearted read with some fantastic writing, be sure to get this book!
Readability: Easy read.
Plot: 3.5
Characters: 3.5
Writing: 5
Personal response: 4
Overall: 4