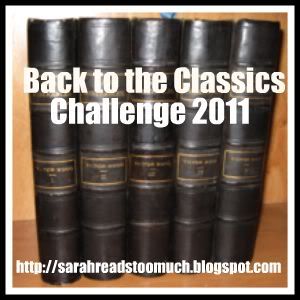 This is one of my most anticipated challenges for the upcoming year. Hosted by
Sarah Reads Too Much
, the Back-t0-the-Challenge requires the completion of eight different tasks involving classics to be completed between January 1, 2011 and June 30, 2011.
Here are the tasks, and my potential reads for each.
A Banned Book - Lolita
A Book with a Wartime Setting (can be any war)
A Pulitzer Prize (Fiction) Winner or Runner Up: a list can be found here - The Age of Innocence

A Children's/Young Adult Classic - Call of the Wild

19th Century Classic - Great Expectations
20th Century Classic -If On a Winter's Night a Traveler
A Book you think should be considered a 21st Century Classic
Re-Read a book from your High School/College Classes - To Kill A Mockingbird
I am excited to have an opportunity to reread
To Kill a Mockingbird
. I also have about three Pulitzers that I want to read, but
The Age of Innocence
is one that I actually own, so that will be the winner for now. I don't want to pick my 21st century classic til I read it, and I haven't thought of any ideas for the book with the wartime setting. Any suggestions for a good 21st century potential classic or a war-time story? Oh, and I have to say I
did
decide to read a lot of Dickens this year independent of Oprah's decision to promote Dickens this year. Not that I have a problem with Oprah. But I didn't do it on account of her new book club selection.